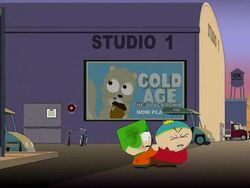 Cold Age: The Smackdown is an advert parody of Ice Age: The Meltdown seen in the South Park episode Cartoon Wars Part II. It is seen in the part when Kyle fights Cartman to stop him from canceling Family Guy. The billboard shows a creature that looks remarkably like Scrat. This is among many Fox references along with The Simpsons and King of the Hill. Also at the time of airing, Ice Age: The Meltdown was number-one at the US box office.
Ad blocker interference detected!
Wikia is a free-to-use site that makes money from advertising. We have a modified experience for viewers using ad blockers

Wikia is not accessible if you've made further modifications. Remove the custom ad blocker rule(s) and the page will load as expected.